Best Price Guarantee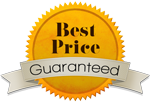 Don't be misled by "buy one, get one free" offers that have inflated prices or exaggerated shipping costs! When you compare the total price of these "special offers," you'll find that Lamination Depot's everyday low prices are almost ALWAYS LOWER, especially when you take advantage of our volume pricing discounts and $5.95 Flat Rate Shipping offer!
And if you do happen to find a lower price elsewhere, we'll not only match the price, but we'll send you a FREE Starbucks gift card as a "thank you" for choosing us!
Our Best Price Guarantee applies to BOTH new orders and prior purchases, so you can rest assured that you are getting the absolute lowest price every time you shop with Lamination Depot.
How It Works:
New Orders
To get an on-the-spot price reduction on a new order, call our Customer Service Department at 1-800-925-0054. Our knowledgeable and friendly staff members will promptly verify the information and adjust your order accordingly. To make the process as smooth as possible, please have the following information ready when you call:
The Lamination Depot item number of the product you wish to purchase
The website address of the item found on a competitor's website
The price of the item advertised on the competitor's website (including shipping)
Shopping after hours? No problem! Simply place your order online today and complete the Best Price Guarantee request form immediately afterward. We will review your information on the following business day and upon verification, we will refund the price difference, ship your gift card, and send you a confirmation by email. If your request cannot be approved, we will place your order on hold and contact you before proceeding. Your credit card will not be charged until your best price guarantee is approved or we obtain your approval.
Prior Purchases
For added assurance, we'll even refund the price difference on prior purchases, and send you a FREE Starbucks gift card! If you've made a purchase from Lamination Depot within the last 10 days and have since found a lower price elsewhere, Click here to submit your Best Price Guarantee and request your refund today! We will review your information within two business days and upon verification, we will refund the price difference, ship your gift card, and send you a confirmation e-mail.
Offer Terms
The lower-priced item must be identical in style, color, size, and material.
The lower-priced item must be new (not used or refurbished), in-stock & ready to ship.
The lower-priced item as well as the lower price must be published on another retail website or online store, run by a legitimate business located within the United States.
Applicable taxes, shipping charges and any additional charges will be included when calculating the price difference.
Exclusions
Items from bonus or free offers
Pricing errors
Grand opening or introductory offers
Special purchases or special buys
Manufacturer's rebates
Special orders
Clearance or close-outs
Auction listings (eBay, etc.)
Bundle pricing
Amazon.com listings
Membership pricing
Special call-in pricing
Dealer's one-of-a-kind or other limited quantity offers
Due to fluctuations in raw material costs, our "School Films" (item numbers S15G251, S15G271, S30G251, and S30G271) are excluded from this offer, as are all lanyards.
Equipment and supplies manufactured by GBC (General Binding Corporation), Lassco Wizer, LEDCO, James Burn, and D&K are also excluded.