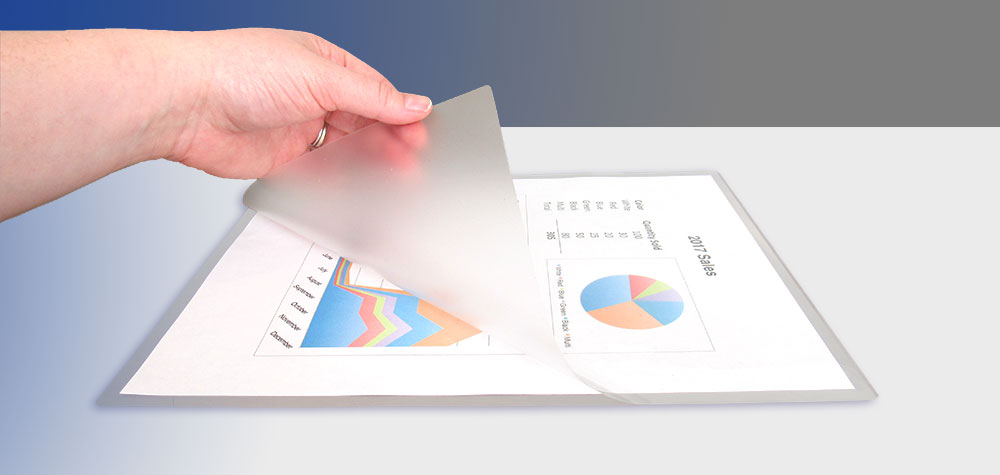 Laminating Pouches
The most convenient way to laminate: Laminating pouches are pre-cut pieces of lamination material that are sealed together along one edge. Use these laminating sheets with a desktop sized pouch laminator or unthreaded roll laminator to quickly seal your documents. Pouches are already cut to fit a wide variety of document sizes, which saves you time because no trimming is necessary.
TruLam Premium Laminating Pouches feature quality DuPont™ adhesives for maximum bonding strength and long-lasting, crystal clear results.
Shop our complete selection of over 200 in-stock varieties! You'll find that our prices are the best anywhere...GUARANTEED.
Read More: 7 Reasons Why Our Laminating Pouches Are Your Best Value
Standard Clear Gloss Laminating Pouches
These tables map out our offering of hot clear (glossy) laminating pouches, sorted by width in inches (shortest dimension). All of our laminating pouches have round corners unless otherwise specified. Order laminating materials today!
A slot allows a laminated item to be attached to a lanyard, plastic loop, badge clip, or zip tie. These pre-punched laminating pouches make great tags and badges!
Reduce glare and create a writeable surface with these laminating sheets with a matte finish!
These adhesive-backed laminating pouches with a release liner work like a sticker. Create stick-on signs, placards and counter mats easily with these laminating pouches!
Exclusively at Lamination Depot! Create your own refrigerator and car magnets with these magnet back laminating pouches.
These premium laminating pouches activate at a lower temperature, making them ideal for photos.
| Pouch Name | Pouch Width (in.) | Pouch Length (in.) | 3 Mil | 5 Mil | 7 Mil | 10 Mil |
| --- | --- | --- | --- | --- | --- | --- |
| Letter | 9 | 11-1/2 |   | ✔ |   | ✔ |
| Menu Large | 12 | 18 |   | ✔ |   | ✔ |
---
How to Select the Right Laminating Pouch
Not sure which laminating pouch size is correct for your project? Watch this quick video to find out!
Still Have Questions? We Have Answers!
Our friendly, expert Customer Service team is happy to help you find what you need and make sure you get it in time to meet your deadline.
Return to All Laminating Products